Hush, Little Baby
An article by Tara Diel published on BeWellWorld.com
Tara Diel, PT
---
I am a Licensed Physical Therapist and have been practicing since 1999. I graduated from the University of Scranton with a BS in '98 and my Master of Physical Therapy in '99.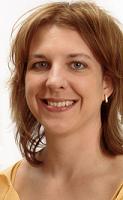 Since graduation, I have taken many continuing education courses ranging from Kinesiotaping (use of a specialized tape to relax or stimulate muscles to improve posture and function) to Myofascial release (a gentle hands-on technique to relax tensions in the body). In addition, I have taught courses on myofascial release and manual therapy.
In 2008 I completed the course studies of a 5 year program in osteopathic manual techniques from the Canadian College of Osteopathy. The school's director, Philippe Druelle describes osteopathy as: "A natural medicine which aims to restore function in the body by treating the causes of pain and imbalance. To achieve this goal the [therapist] relies on the quality and finesse of his/her palpation and works with the position, mobility and quality of the tissues." The program covers treatment of the whole body from various aspects including work on boney, vascular, fascial, neurological and cranial structures. It utilizes many techniques including cranio-sacral, myofascial, strain-counter strain, boney adjustments, and visceral work. I've also taken advance courses in osteo-articular (boney) adjustment, treating infants and children, as well as treating women throughout their pregnancy.
Previously, I worked at Kennedy Krieger Institute for more than 10 years. In 2008 I opened my private practice and have enjoyed helping individuals reach their greatest level of health and functioning since then! I have found that looking at the body globally and trying to get to the source of the problem is very effective at reducing pain and improving function in my patients.
I love treating because each patient is like a puzzle. Solving that puzzle restores a patient's body into correct alignment and helps them function to their greatest potential!